< previous entry return to list next entry >
Travel Tips for Cat Trips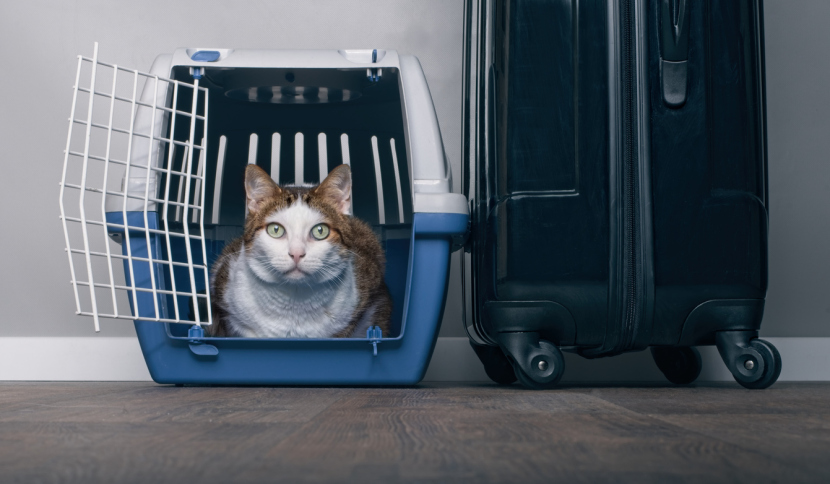 Whether you are taking a vacation trip with your cat, relocating to a new home or going to your veterinarian, here are some helpful travel tips for you and your feline family members:
First, make sure you have the proper carrier for the type of trip you are taking with your cat. If traveling by air, it is preferable to take your cat with you in the cabin in a soft-sided carrier. However, you must call your airline well in advance because there is a limit to the number of pets that can be taken onboard on each flight. You will be required to meet lots of requirements to be sure to check those out at least 2 months prior to your trip. There are companies who will do this for you which can save you lots of time.
If your trip is by car, a hard-sided carrier is by far better, and safer, than any soft-sided carrier. Your cat will fare much better in the event of an accident in a hard-sided carrier, which is held in place properly by a seatbelt (just like you and your other passengers!). And, if your cat has his own "accident" in his carrier, a hard-sided carrier is much easier to clean than a soft-sided carrier.
If your cat hasn't been to the vet in over 4 months prior to your trip, it is important to take him to the vet for a good checkup. Make sure his dental condition is evaluated, particularly prior to flying because tooth problems become much more painful at higher altitudes. Although 4 months doesn't sound very long to us, cats age much more quickly than we do and 4 months for cats is about 1.3 years for humans. Think about how much we can change in 1.3 years!
You can often reduce your cat's stress whether taking him on a trip to the vet, a short vacation or relocating to a new home, if you utilize products from www.PetEssences.com. I have recommended this line for over 20 years and have used many of their products with my own cats through the years. Their "Travel", "Calming", "Anxiety/Fear" or "New Home", or possibly even a combination or different formulas can be very beneficial. Polly Fox, the owner of the company, is very helpful in selecting which one(s) are best. She is usually available mornings (Mountain Time).
Another way to lessen the stress for your cat when traveling by car is to play some music which is designed for cats. Cat music by David Teie is particularly effective in lessening anxiety. Otherwise, you can play some soft jazz or listen to the relaxing music played on a "Spa" radio station.
Last, but not least, make a conscious effort to stay calm. Keep visualizing how you want things to be—calm, relaxed and peaceful. Since our cats always pick up on our moods, making our mood a good one will have a pawsitive effect on them. Happy Traveling!
posted on 7/27/2019