National Cat Day Suggestions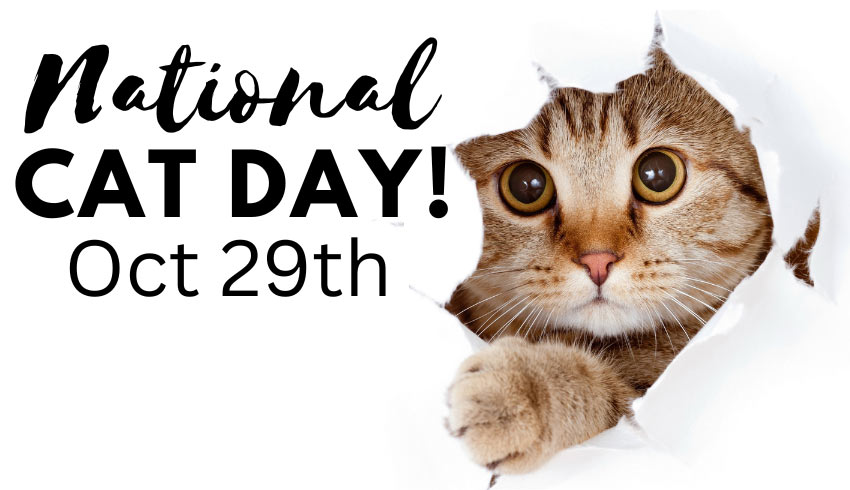 National Cat Day is celebrated every October 29th. How are you going to celebrate National Cat Day? Here are a few ways you can honor and show your love for your cat(s) on this special feline-friendly day. Of course, EVERY day is National Cat Day on your cat's calendar!
1. If you don't currently have a feline family member, consider adopting a cat (or two--it might even be easier!) from your local shelter or cat rescue.
2. Make a commitment to your cat's health and feed healthy food AND treats containing NO wheat, corn, soy or byproducts! Less dry food and more wet food=less shedding and hairballs.


3. Donate blankets, food, and clean/new cat toys to animal welfare organizations.
4. Volunteer at your local shelter and offer to play with some cats that are available for adoption, clean cages and litter boxes or anything else you could do to help.
5. Write your Congressman and ask that he/she support the ban of kitten mills in your state.
6. Bake some cat-shaped cookies for your family, kids, friends, or office.
7. Do a safety check of your home to make sure it's 100% safe for your cat(s). Think "Cat-Proofing!"


8. Spend the day taking photos of your cat(s) and posting them on your Facebook page.
9. Buy an official National Cat Day T-shirt and wear it proudly!
10. Assist an ill or elderly neighbor by cleaning their cat's litter box and playing with their cat. Remember that you should only use unscented litter in all litterboxes, preferably with no top on the box.
11. Commission a custom portrait painted of your cat.
12. Buy your cat a safe, fun new toy (like Da-Bird) and a tall, sturdy cat tree and/or comfy bed.
13. Offer your cat some fun exercise by putting up some sturdy wall shelves specifically for him/her.


14. Make or buy a window perch for your cat to lay in the sun and do some bird watching.
15. Brush and comb your cat to eliminate excess fur and hairballs. Remember: Spring and Fall are peak shedding times.
16. Give your cat a calming massage or play relaxing cat music.
17. Set up a vet appointment and have your cat checked out.
18. Make sure your cat has a collar and tag with your name and number, just in case they go outside and happen to become lost.
19. Hire a professional pet photographer for a fun photo shoot.
20. Have a National Cat Day party and invite all your cat-parent friends and remind them to bring favorite photos of their cats!
Remember - National Cat Day is just once a year so make it a MEOWY FUN TIME!
previous next